talofa!
I'm Marmi
Welcome to my chaotic world of creativity on the WWW, confined into an orderly template that I didn't make because I'm not a web designer..yet.. but don't let the tidy design fool you. As you'll see from of my work, I don't like to stick to just one skill or role-
I'm whatever I need to be, whenever my ideas need me to be it.
Sooo I could've made it 😏I'm a proud Samoan non-binary artist and creative. I'm self-taught and driven by the necessity to survive and my stubbornness to do so freely and with purpose. My approach to life is unconventional and I have nightmares about fitting in. My sisters go-to insult for me is "UGH. (excessively rolls eyes) You and your individuality complex." It still burns a little just typing it. I balance taking myself way too seriously and not seriously at all with the same finesse as Philippe Petit as he balanced his way across the Twin Towers. It's a real art form.Anyway if you read this entire bio, thanks for giving time to my goofy truths. Please enjoy the constant WIP that is my life creativity!P.S this is me being all dramatic and silly.MA x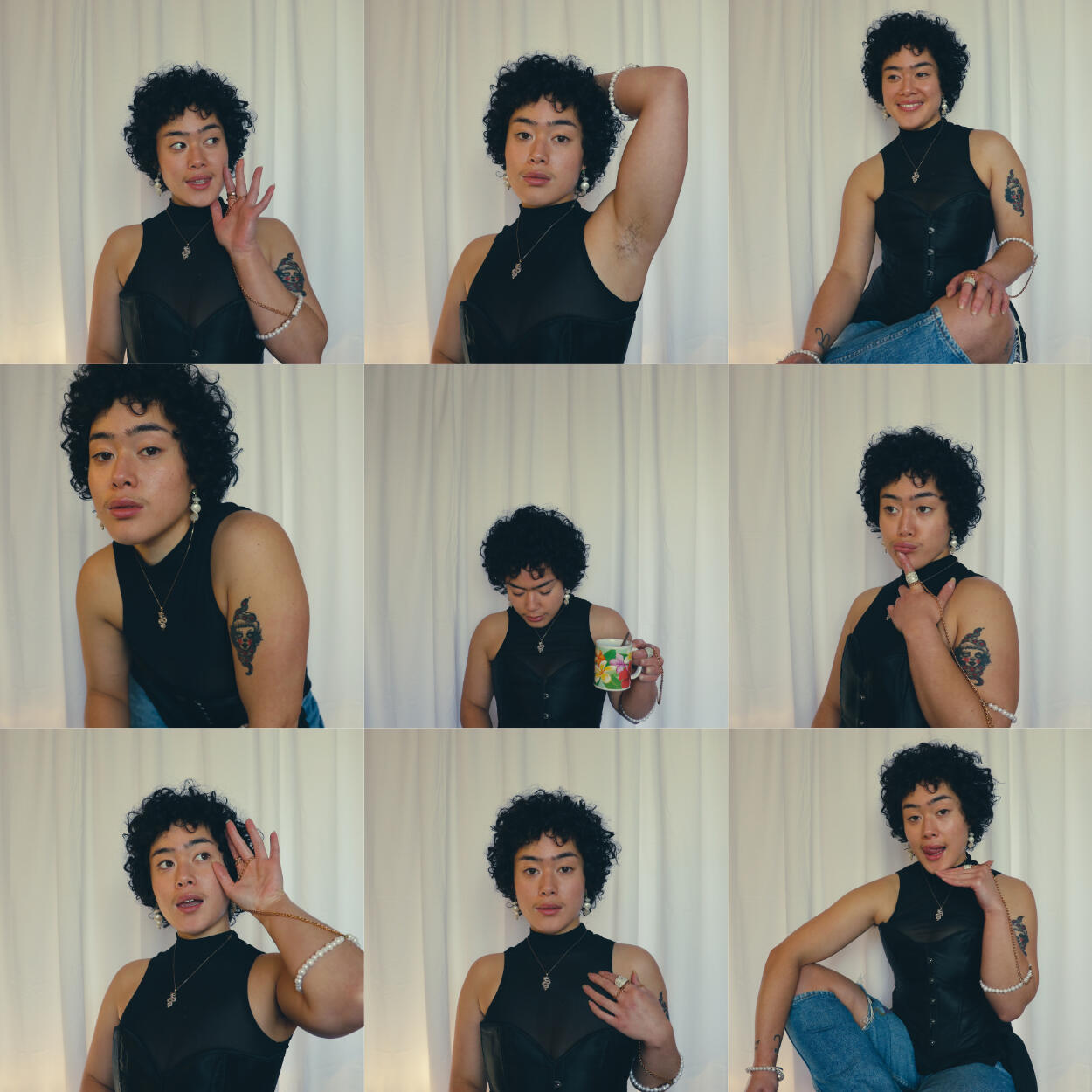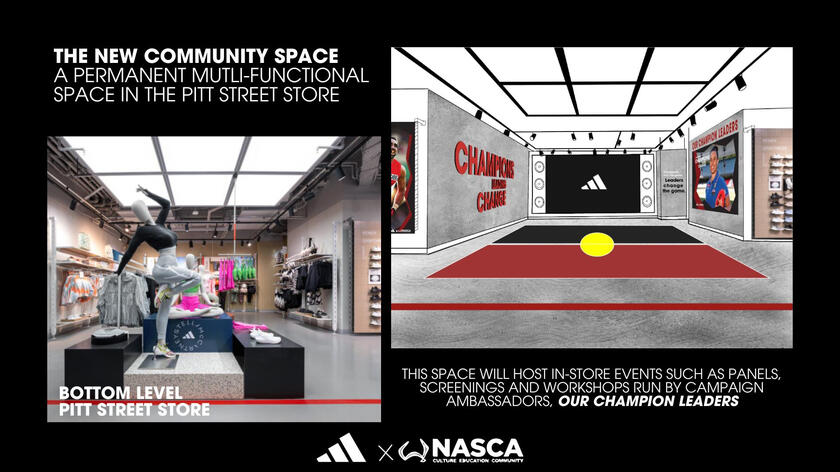 Adidas au
community spaces
First Nations sports players are champions when they score for Australia, but pariahs when they stand for their Country.With this insight, we came up with an idea and execution that would allow adidas to make a clear brand statement about what they stand for and how they co-create with community.Champions Leading ChangeIn partnership with NASCA- a 100% Indigenous governed organisation, the co-designed campaign will transform the adidas flagship store into the ADIDAS ARENA to host The Gadigal Games- an indigenous games event led by adidas' Champion Leaders- these ambassadors will be First Nations Champions in sport who use their platform to lead positive change in their communities. The campaign is amplified via digital and social promotion, a docufilm series and other in-store events.My roles in this project:
- Strategy & Idea
- Copy
-Art Direction
- ADIDAS ARENA & new Community Space Concept Drawings (not including posters)2023
Open, Sexy, Out
Far out x open seen
Open, Sexy, Out is an event that celebrates the nuance of queer love. Catered to the QT/BIPOC community, OSO centers queer expressions of love and sensuality in all forms- romantic, platonic, familial, self-love, and all the lusty fun bits in between!As QPOC-led collectives, Far Out and Open Seen host their event with all the different points of view and vibrancy of their cultures. OSO is a reimagining and multi-sensory experience of the ethnic parties they grew up with (full tummies, music, dancing and found family vibes).The day-to-night event included a photoshoot opportunity, a queer focused Sex Talk run by POSMO- Naarm/Melbourne-based sex toy concept store and educational platform, an ethnic banquet put on by the family of Far Out and Open Seen, and DJs and performances by a full QPOC line-up.Every essence of this event was for community, by community.My roles in this project as the founder and Creative Director of Far Out included:
- Producer
- Creative Direction
- Graphic and 3D Digital Design
- Event Styling2023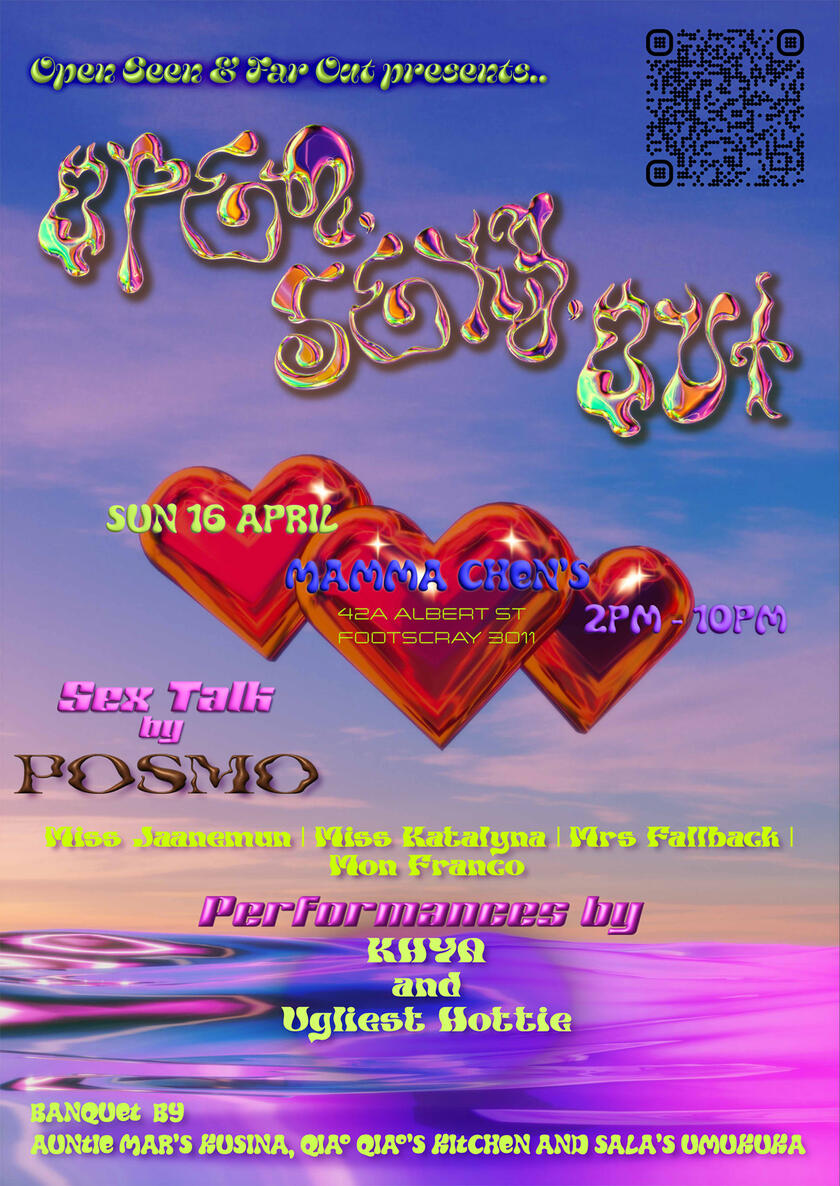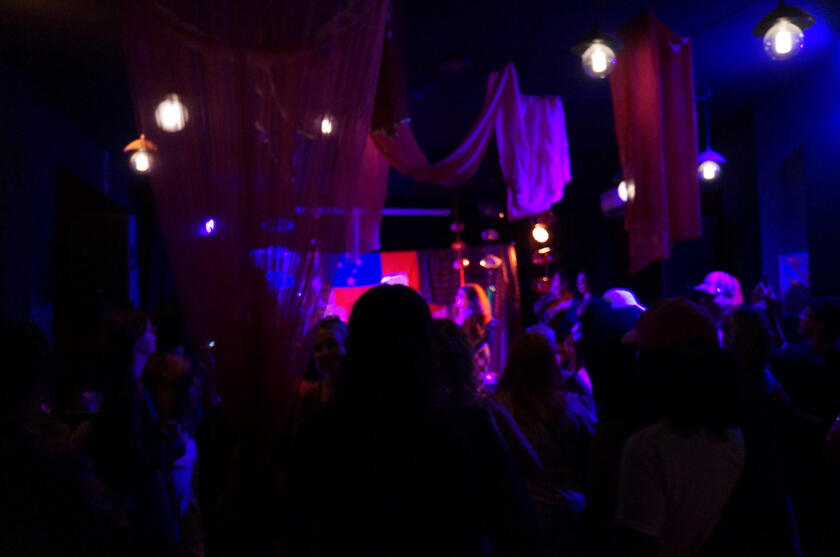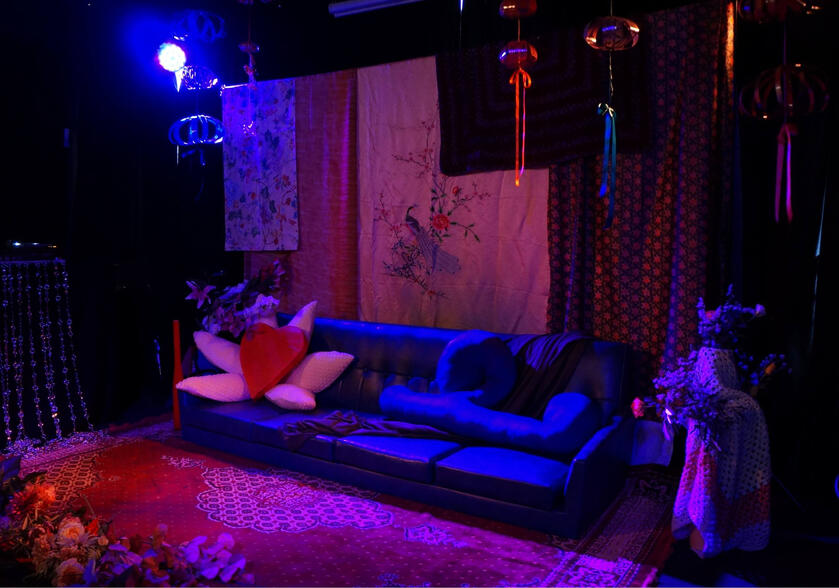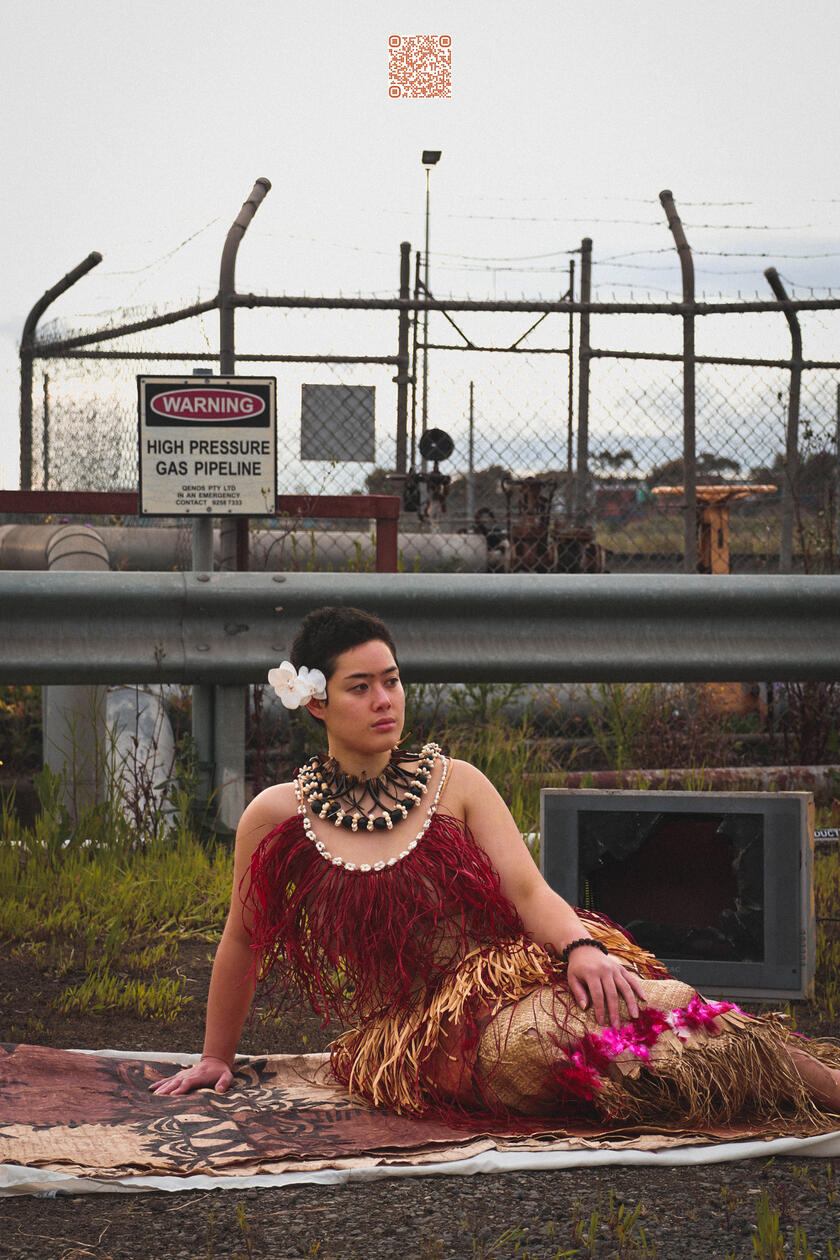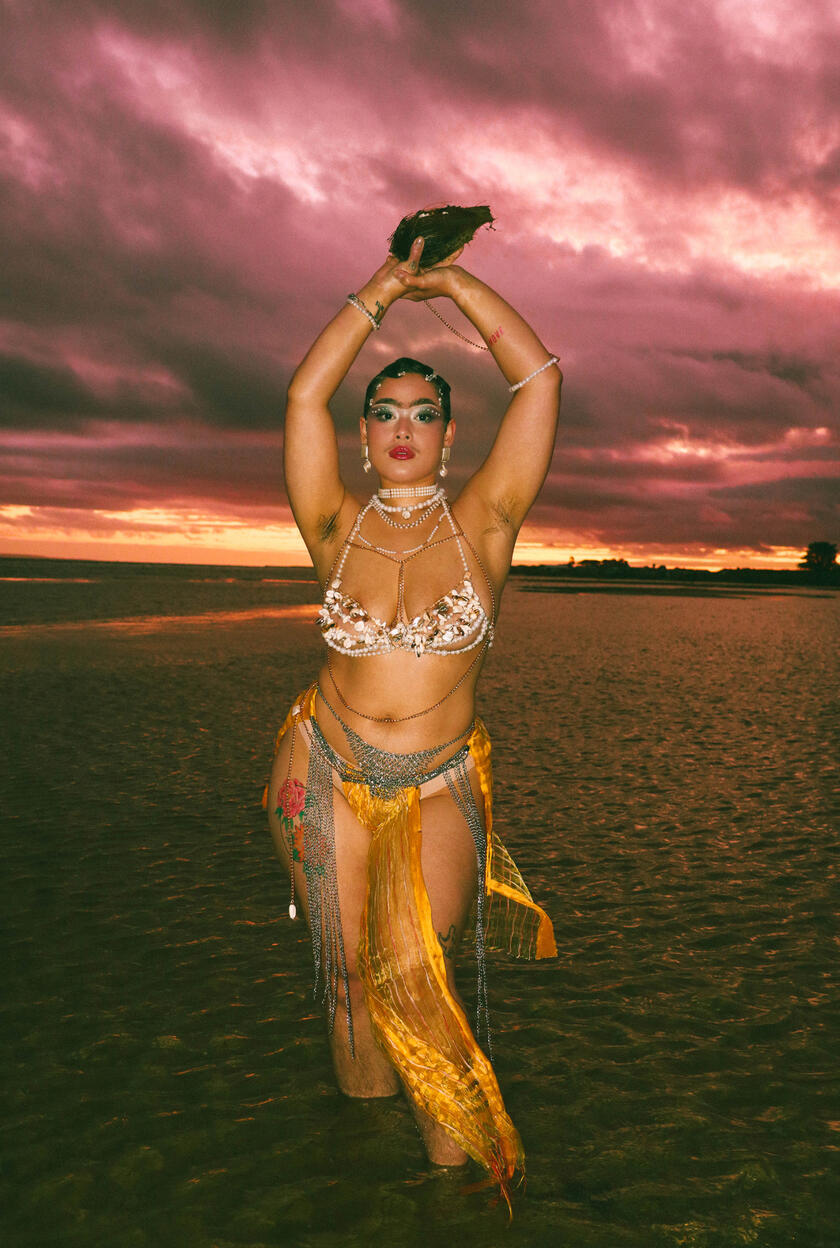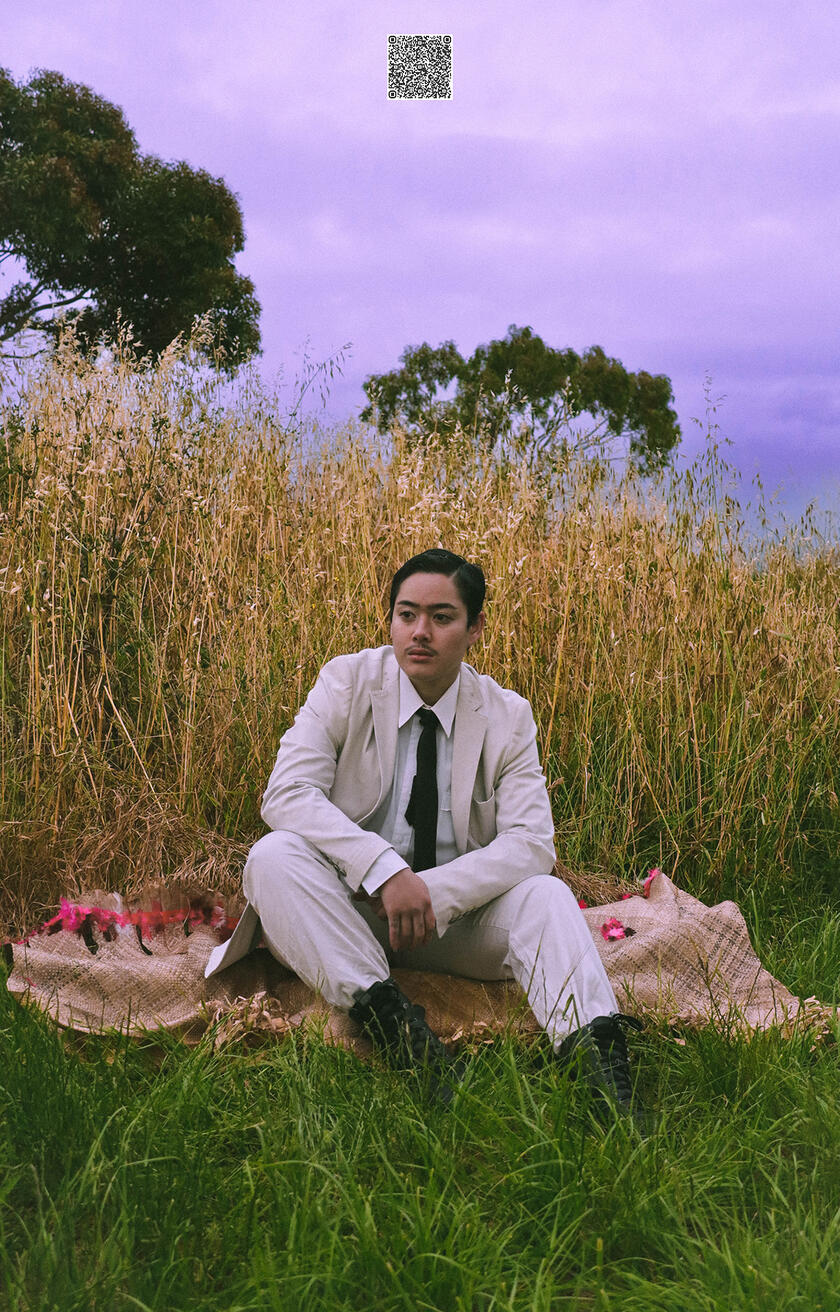 O a'u o le Samoa
(I am Samoan)
A part tableau, part self-portrait triptych that reimagines images taken during the colonial period in Samoa. In this project I address the intersectionality of my identity as a sexually fluid, gender non-conforming, diasporic Afakasi "half-caste", to deepen my understanding and acceptance of self and origin.I pose as a Samoan Taupou, a Scottish settler and famous writer known in Samoa as Tusitala- the teller of tales, and as myself- a queer afakasi navigating a modern world of western frameworks, with indigenous beliefs. Using self as both the creator and the subject matter, I manifest a sense of ownership in each image in a provocative act of acknowledgement, empowerment and reclamation of cultural origin and identity.O a'u o le Samoa will introduce the genesis of a wider continuum of work to further reclaim the narrative of Oceania from its archaic and colonial perception that has confused our history and altered our culture, empowering our people with a contemporary celebration and representation of fluid indigenous identities and beliefs.My roles in this project:
- Concept
- Producer
- Art Direction
- Body Accessories Design
- Traditional Dress Design
- Styling
- Post Production2022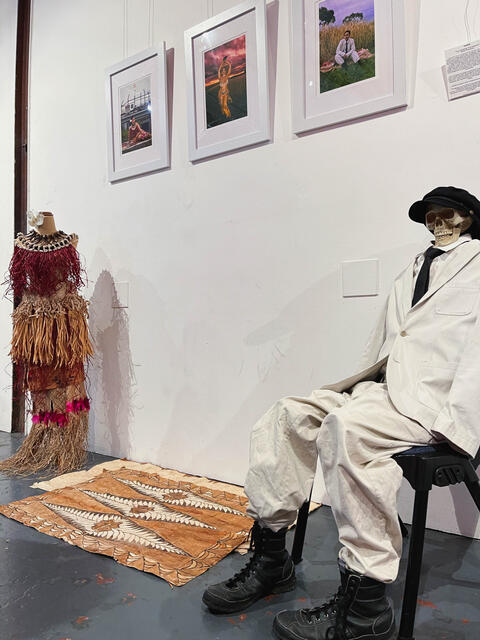 the 'ri'birth of marmi
The moments that drove these pieces play a significant part in the re-emergence of my creativity, and my belief and self-worth as an artist and creative.So while they aren't my greatest work, they filled me with a lot of passion and joy while creating them and continue to do so now looking back at them; both for the piece, and for the intention and act of creation itself.I think that's worthy of sharing.
Fa'afetai tele lava <3
hit me up!
Thank you very much <3
If my work intrigues you in any way, please reach out and let me know whats good. I'm always looking for like-valued, purpose-driven people, agencies and brands to collaborate with! And as always, QTBIPOC TO THE FRONT! Cheehooo!!